Dear Passengers,
I've been having one of those weeks where "signs" are everywhere. You know what I mean… little signs that keep pointing to things you shouldn't or can't ignore.
For me, the signs have all pointed to the same thing – songwriters, artists and composers missing opportunities that are staring them in the face.
The first sign was getting a call from a top Film/TV publisher telling me that 70% of the TAXI members she contacted with deal offers didn't respond. When queried, the members told me they weren't sure if the deal offer was real or legitimate, even though the company rep told them she found them using TAXI.
All they had to do was ask us to get clarification! It was what I would call a gold-plated company. The one I'd want to sign with if I did Film or TV music.
My next sign was getting several emails in short succession from musicians telling me they didn't think their music was good enough. They were stopped dead in their tracks by their own fears. I wrote to you about that a few days ago.
What Broadcast Quality Means
Specifically, there seems to be a lot of confusion about what the term Broadcast Quality means. I'm going to clarify that for you in this email.
The misconception seems to be that you must record your music in a state of the art studio to achieve Broadcast Quality. Not true! I'm going to give you some great examples in a minute.
In the Film and TV Music world, Broadcast Quality can often be achieved using nothing more than a few tracks in a home studio. You can use a relatively inexpensive condenser microphone and a couple of basic pieces of outboard gear or plug-ins to get the sound you need.
Meet Denny Earnest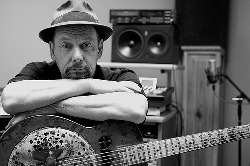 TAXI member Denny Earnest
Let me introduce you to Denny Earnest from Montana. Denny has been a TAXI
member for a very long time, has signed dozens of tunes with Film/TV
publishers through TAXI, and has had enough film and TV placements to
create a nice income from them. Click this link and listen to Denny's
tunes, "Coming Up Slowly" and "Tiesco Select."
There's no question that Denny is an excellent player of many stringed instruments. There's no question that these tracks sound great. There's also no question that these are great examples of what Broadcast Quality can be. Can't you hear these tracks being used in a movie or a TV show? Don't you hear tracks like these all the time on your TV?
They often come from people like Denny getting signed by publishers through TAXI.
What makes those simple tracks Broadcast Quality is the quality of the playing and the clean, yet simple recording. Could you have done that?
Meet Bill Gordon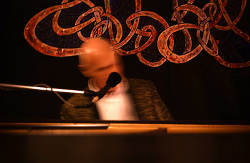 TAXI member Bill Gordon
Next up is Bill Gordon from Miami, Florida. Bill is a top-notch pianist. I've been in his small home studio. He's running ProTools in a room that's roughly 15'x15′ in a little guesthouse. The console and the rest of his gear sit in the same room as his piano. Sound familiar?
Click this link and listen to the song, "Riverboat Blues."
As you might have read in Bill's bio, he's had a bunch of great TV placements, all I believe, as a result of his TAXI membership. Broadcast Quality? You bet! Great playing and a nice clean recording from a home studio. Can't you easily hear "Riverboat Blue" getting used in the background of a riverboat gambling scene in any movie or TV show? Could you have done that?
Meet Matt Hirt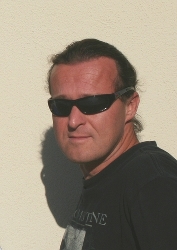 TAXI member Matt Hirt
Matt recently told me that even if he didn't record and produce any new music for a year that his income would continue to come in from all the music he had "in the pipeline." Meaning that his existing tracks would continue to produce income for some time to come. The gift that keeps on giving 😉
Ready to hear a range of Matt's work? And I do mean a range! If you listen to all the tracks on the page I'm sending you to, you'll learn a LOT about what the market needs and hear some great examples of Broadcast Quality done in a home studio outfitted with ProTools, some great sample libraries and virtual instruments.
Also notice how Matt has named many of his tracks. I like the fact that his titles give you a good idea of what the track will be about. Here's the link:
You Can Do This!
I've got to believe there are many of you reading this who are saying, "I could do this too!"
That's exactly the reason I'm writing to you today. So many of the "signs" that have been hitting me over the head this past week are telling me that the reason many musicians aren't successful yet is simply because they're afraid of the unknown.
Now you know!
You might be wondering how Broadcast Quality plays out for artists, rather than for people doing instrumental music only. Glad you asked!
Meet Mike and Ruthy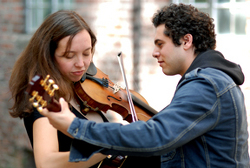 TAXI members Mike and Ruthy
I spent a good chunk of a Saturday afternoon listening to TAXI members Mike and Ruthy from Woodstock, New York. As I listened to song after song, I kept imagining myself pitching their music to Film Music Supervisors. I also thought of you!
Why?
Because Mike and Ruthy have tons of songs that are great examples of what I would call lo-fi, home recording and production that absolutely works, and is absolutely Broadcast Quality. Click this link:
Listen to Mike and Ruthy's tunes
Check out, "All the Time." Wouldn't that be a great song for a movie like Juno?
How about, "Alone on the Homestead," for a movie like Cold Mountain?
And then there's the gritty electric song, "I'm Going to Get My Girlfriend Out of Jail," which would be great for an ironic scene in a Seth Rogin comedy or a heavy, serious scene in a film like Traffic.
Every song or track I've pointed you to would qualify as Broadcast Quality. Have I cleared it up and shown you that there may be tons of possibilities out there for you and your music?
Broadcast Quality is Probably Easier Than You Think
To summarize, Broadcast Quality does not necessarily mean that a track or songs has been recorded in a state of the art studio with a twelve-foot long SSL console. Much of the music you hear in Film and TV is recorded with ProTools or Garageband, with a relatively small amount of other gear – maybe some compressor/limiters and reverb units.
Reasonably good, clean recordings that are well balanced in the mix are often good enough. Mastering your tracks is not necessary.
You can ruin an otherwise Broadcast Quality recording by adding a wimpy, underperformed or pitchy vocal. While the tracks might be well recorded, a sub standard vocal performance can easily lay waste to an otherwise great track. I can't overemphasize that enough!
My advice? Hire a singer or make the track an instrumental!
One final thought. Two to three minutes is a great length for Instrumental tracks for Film and TV applications, and buttoned, not faded endings are often preferred. Make it easy on your potential customers and they'll love you for it!
I hope this helped.
Talk to you soon,
Michael